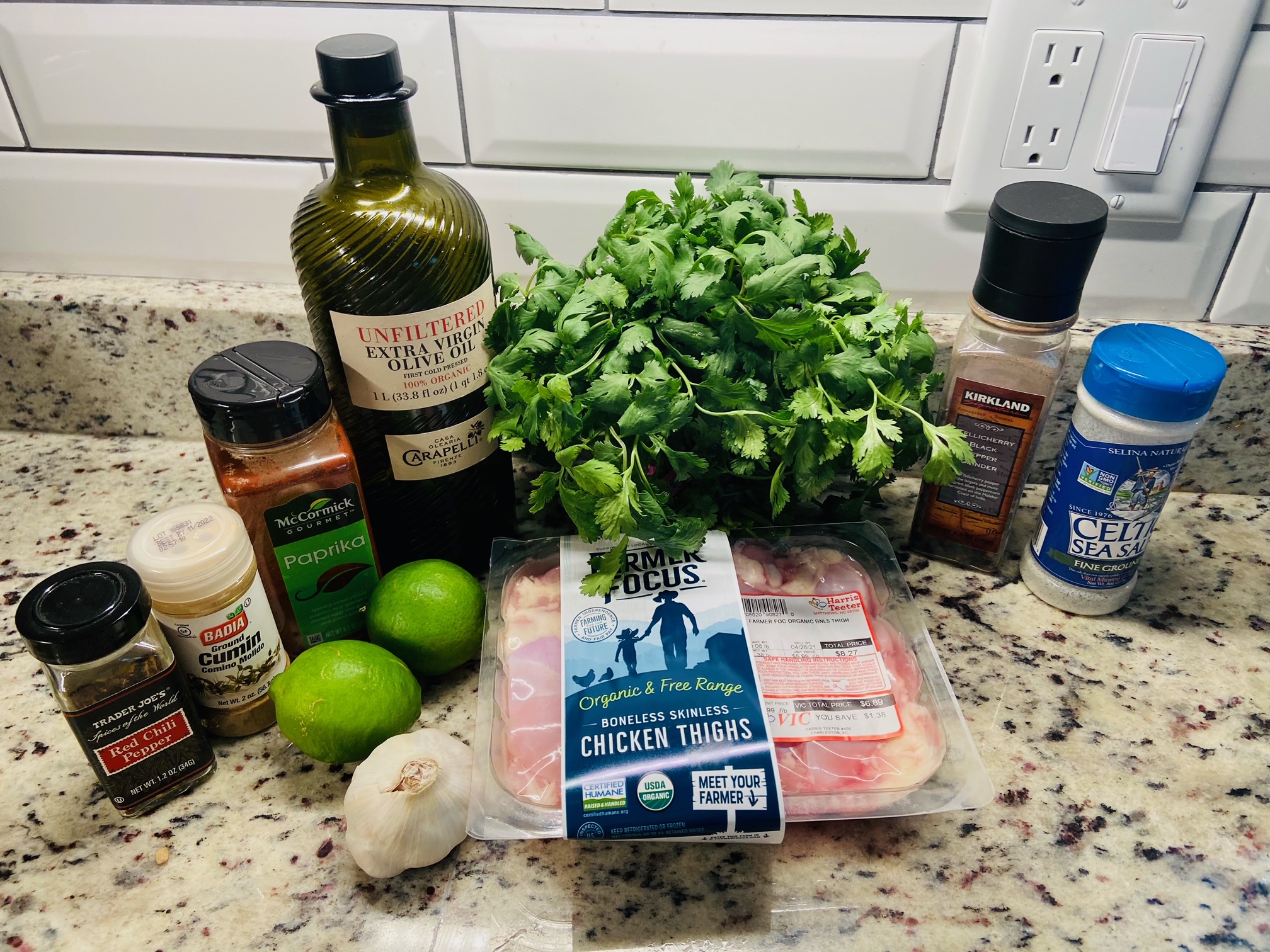 I'm a huge fan of healthy, delicious, fast and fresh tasting meals and when I recently made this one my mouth was like WOW! This has absolutely been my favorite dish hands down lately – I've been making it about once a week because it is seriously Just. That. Good. Not only is it yummy but also a fairly quick meal – you can pre prep that marinade in the morning and you're good to cook that chicken once it's time for dinner. This recipe as written will serve two but feel free to double or triple it up for more people or leftovers. Finally, this entrée pairs nicely with a side of cauliflower rice, avocado and corn salsa, guacamole or grilled veggies. I hope you enjoy!
Serving size – 2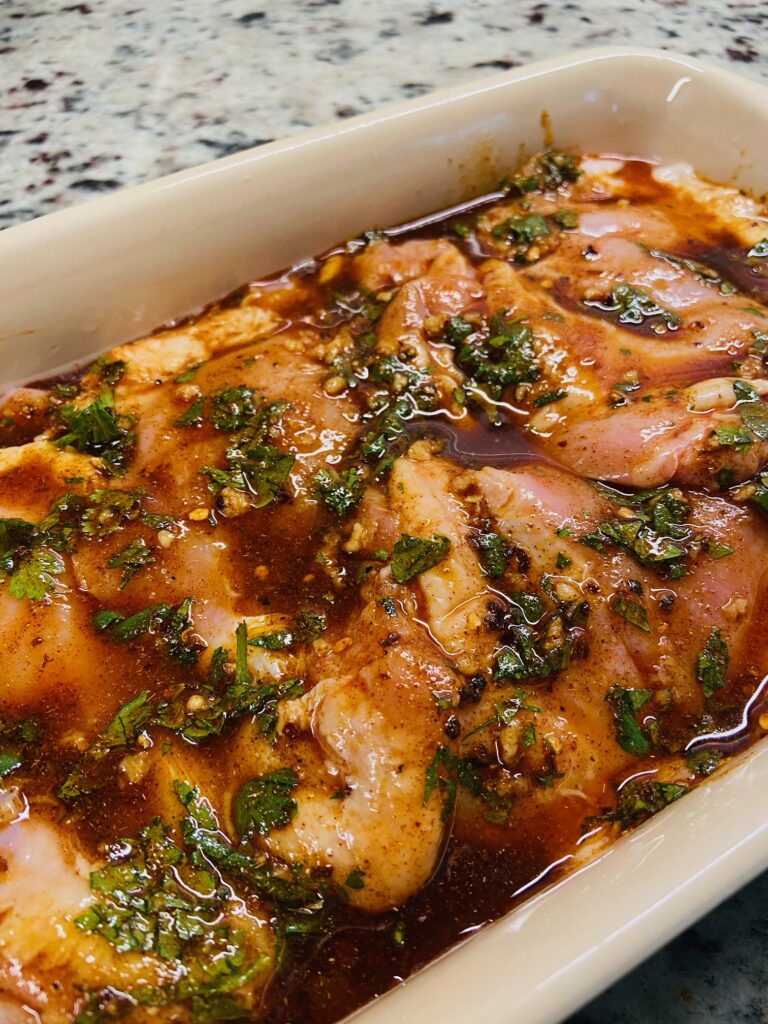 Ingredients:
1 pound boneless, skinless chicken thighs
1/4 cup extra virgin olive oil
1/4 cup chopped fresh cilantro
1/8 cup fresh lime juice
2 cloves minced fresh garlic
1/2 teaspoon onion powder
1/2 teaspoon red pepper flakes
1/2 teaspoon cumin
1/2 teaspoon paprika
3/4 teaspoon salt
Black pepper – to taste
Instructions: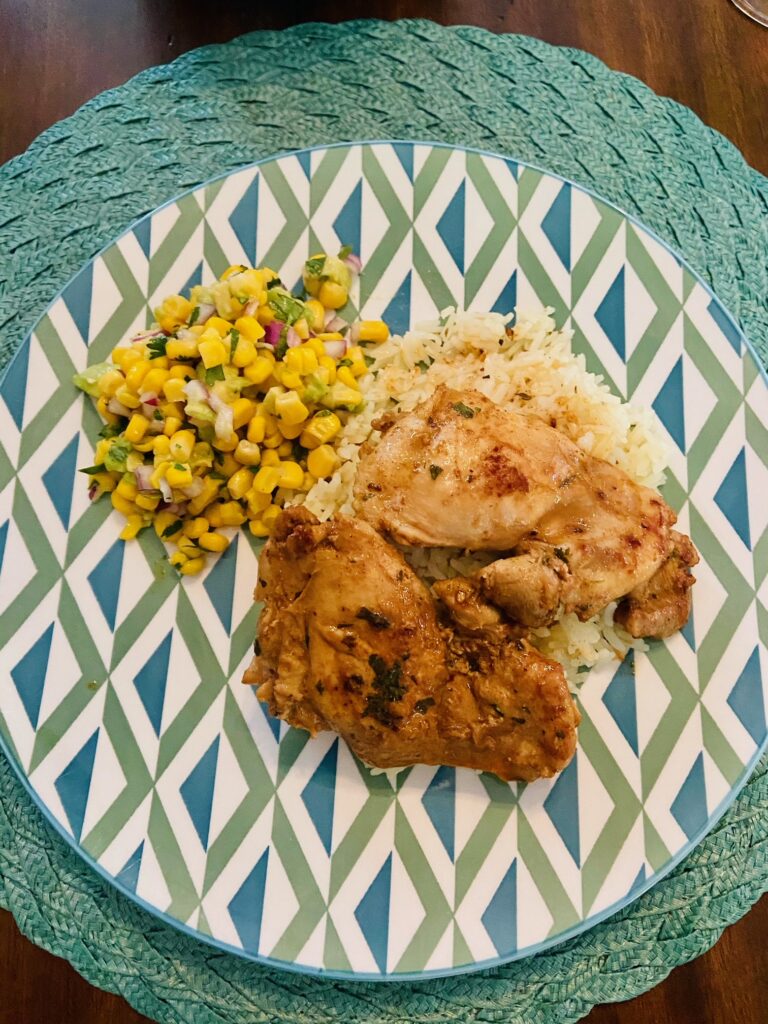 Make that marinade – add all of the ingredients with the exception of the chicken into a large bowl and stir until well combined.
Add the chicken to the large bowl and spoon the marinade over the chicken until well coated.
Place the chicken marinade bowl in the refrigerator for at least 20 minutes and up to 8 hours.
In a large skillet over medium heat place one teaspoon of olive oil.
Once the oil has warmed – add your chicken thighs to the skillet.
Cook for about 5-7 minutes on each side (the size and thickness of your chicken will determine final cook times) until the internal temperature is at least 165 degrees and no pinkness remaining.
Remove chicken from pan and add to your serving dish – garnish with cilantro leaves and enjoy!
Pro Tips:
Choose chicken thighs or chicken breasts if you want a dish that is more juicy, tender and will tend to hold more of the flavors.
You can marinate for 20 minutes or up to 8 hours depending on how much time you have – BUT basically the longer you marinate the better your finished dish.
Use as many fresh ingredients as you can in this recipe – lime juice, cilantro, garlic – it DOES make a difference in how much the flavors will POP – I promise it's worth the extra few minutes in prep.
Leftovers – this one does really well saved and reheated again so make extra if you need another meal on a different week night for a quick after work meal.