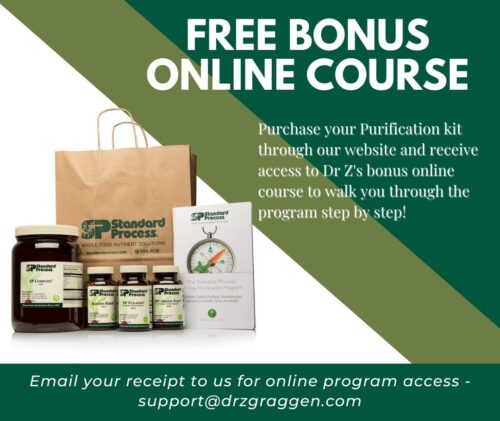 HAPPY NEW YEAR!

I have been using Standard Process and MediHerb supplements both personally and with my patients for over 20 years and the 21 Day Purification Program has been an integral part my practice. In assisting 1000's of patients with this program over the years, I know that sometimes it helps to have a little guidance, tips, and extra recipes to keep you on track with the program.

I have spent the last few months creating a FREE online resource for all of our patients and customers to use with the detox program. I have created an online, self-guided program that will walk you through the 21 day purification program step by step.

My goal in creating this program is to provide the perfect self-study course to compliment your detox program.
I've taken everything I've learned from over 18 years in clinical practice working with 1000's of patients and channeled it into a comprehensive, step-by-step implementation of the 21 day purification program that not only teaches you the high level theory, but the actual EXECUTION of how you can do the same.

Want to see what is included with this amazing bonus? This link here lists all of the program perks and info and the step by step instructions on how to redeem access to the free program!

https://drzgraggen.com/purification-program-bonus/

When you purchase your 21 Day Purification Program kit through my office's authorized website, you'll receive my online program ABSOLUTELY FREE! You can also order via phone – 843.214.2997

Just forward a copy of your order number or receipt to us at

[email protected]

and we'll email you back with the details needed to access the course.

I can't wait for you to jump in!
21 Day Purification Kit

Our 21-day purification program helps patients purify, nourish, and maintain a healthy body and weight. We offer eight different purification product kits based on the preferred protein and fiber choice.

Included in the program are:
1 SP Cleanse–purification
2 SP Complete, SP Complete Chocolate, SP Complete Vanilla or 2 SP Complete Dairy Free–nutritious supplement shakes
2 Gastro-Fiber or 2 Whole Food Fiber–fiber support
1 SP Green Food–phytonutrients
1 patient purification program guide
1 recyclable bag

Click this LINK to learn more about the 8 different kits or to purchase.

Yours in Health,

Dr. Stephanie Zgraggen, DC, MS, ACN, CNS, CCN