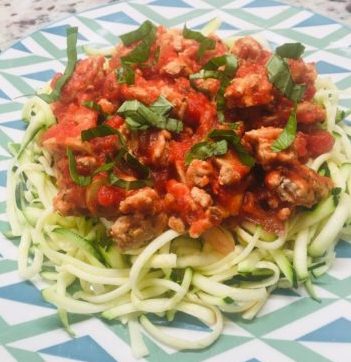 Can I tell you that I LOVE LOVE LOVE this recipe!  It's super fresh, fast, healthy, detox friendly, paleo and gluten free.  What's not to love?!?  This is a dish even YOUR KIDS are going to eat.  My dog Brie enjoys any leftover zoodles!
This is a 20 minute one pan dish if you follow my preparation and kitchen tool techniques and I especially enjoy it during the summer. I keep the zucchini cold and cover the cold zoodles with the heat meat, veggie, sauce combo and it becomes a fresh summer dish for these hot hot hot Southern summer days.
You can also substitute grass fed beef for the organic turkey if you wish.
In this recipe I use a jar of marinara in order to save time for those quick weekday meals. When choosing your sauce choose one without any added sugars and I always buy one that has the least amount of sugar/carbs listed on the label. Some fantastic brands are: Organico Bello, Cucina Antica,
Also, be sure to have your tools on hand to make your life EASIER – Two kitchen items I cannot live without is my garlic roller/peeler – seriously if you don't have one of these you need one. I can peel my garlic in 3 seconds flat with this bad boy.  Also you'll want a spiralizer to make those yummy zoodles. With this tool I can zoodle a zucchini in about 20 seconds.  Dinner in 20 minutes? BOOM!
Here's to healthy quick meals!

Italian Turkey Zoodles
INGREDIENTS
2 medium zucchini – spiralized
1 lb organic ground turkey
2 tsp olive oil
One medium onion – diced
8 oz mushrooms – diced
3 cloves garlic – peeled and minced
Salt and pepper to taste
1 tsp cumin
1 tsp crushed red pepper (optional)
1 tsp dried oregano
1 tsp dried basil
1 24oz jar of no sugar added marinara sauce
Fresh basil chopped
INSTRUCTIONS
Spiralize your zucchini and put the spiralized zucchini on a paper towel to drain while you prepare the rest of the meal.
In a large nonstick skillet heat 2 teaspoons olive oil over medium heat.
Add organic turkey, onion, mushrooms and garlic and cook until turkey is no longer pink and vegetables are tender; breaking up turkey into crumbles, 8-10 minutes; drain.
Put pan back on the burner and turn the heat down to a simmer
Add your marinara sauce – I usually use ¾ of a jar – just depends on how wet you want your dish.
Stir in your spices.
Let the pan simmer until all ingredients are well mixed and warm.
Place a cup of spiralized zucchini on your plate, spoon your turkey, veggie, sauce mixture over the zucchini. Garnish with chopped basil.