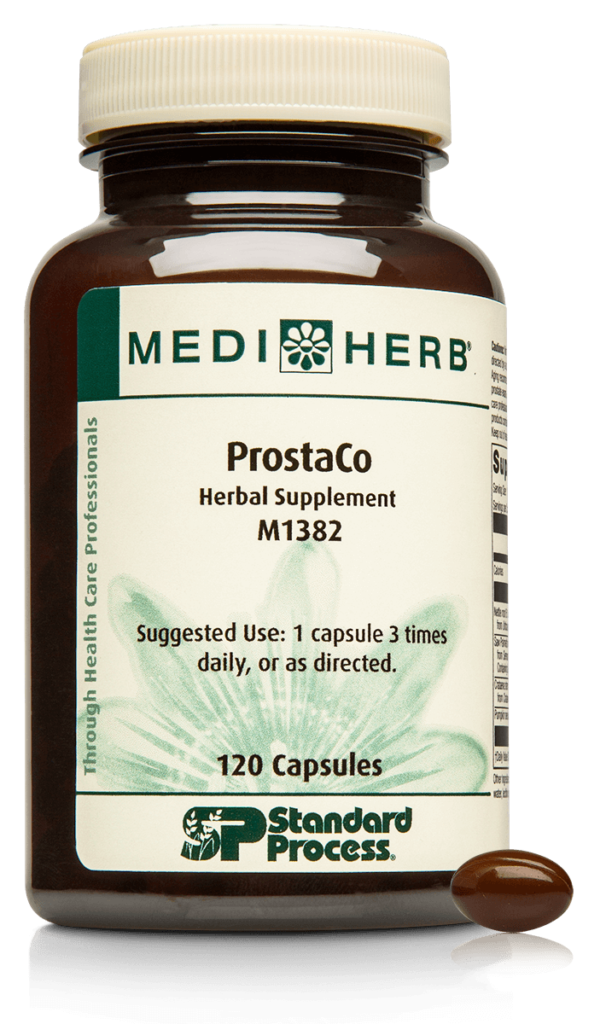 Palmettoplex Update and MediHerb Prostate Product
I promised to update everyone once we had some word on the Standard Process Palmettoplex.  Right now it seems that it will most likely be out of stock for the rest of the year.  

But I do have some good news!

MediHerb – which is one of the herbal company that is sold by Standard Process in the United States, has released a prostate product called PROSTACO that can now be purchased online that also has Saw Palmetto, one of the main ingredients in Palmettoplex. The recommended daily dose is 3 capsules per day.
About ProstaCo
ProstaCo contains Saw Palmetto, Nettle Root and Crataeva in a Pumpkin Seed oil base to provide prostate support.
These herbs have been traditionally used in herbal preparations to:
Support healthy urinary tract and prostate gland function
Support healthy bladder function*
Key constituents of this complex include fatty acids, glycerides, sterols, lignans and polyphenols. This product is standardized to contain 96 mg per capsule of Serenoa repens fatty acids to ensure optimal strength and quality.
Suggested Use: 1 capsule 3 times daily, or as directed.

If you'd like to check out this product or add it to your protocol you can see the ingredients and purchase at the following link.
https://drzgraggen.standardprocess.com/products/prostaco
Also, if you have any questions feel free to mail us call our office at support@drzgraggen.com or 843.214.2997.

Cheers,
*These statements have not been evaluated by the Food and Drug Administration. These Products are not intended to diagnose, treat, cure, or prevent any disease.