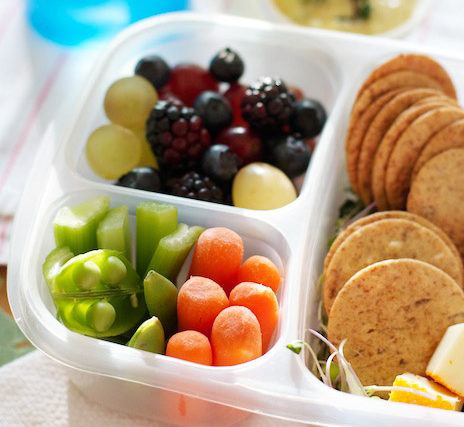 Happy Fall!  It's that time of year when summer festivities are winding down and we all regain a more routine schedule even if we do not have children that are heading back to school or maybe you are virtually teaching from home this semester.  
Your nervous system as well as your brain requires whole food fuel – specifically fat and B vitamins in order to thrive.  If fatigue, memory, or mood are issues for you or your child, be sure to check out my easy tips to improve your health and probably your grades too! For overall health I recommend a chewable multivitamin for kids and chewable Catalyn is both my and my little patients favorite choice.
Tips for Healthy Back to School Lunches
Avoid refined sugar, genetically modified grains, poor quality dairy products and other highly processed foods like poor quality lunch meat. The foods on this list will have an array of negative health effects ranging from brain fog, fatigue and inflammation from sugary or processed GMO grains, to digestive upset from dairy products or poorly processed meat. To make sandwiches, replace your store bought bread with better ingredients like Bob's Red Mill flours or make a lettuce wrap instead! Replace your lunch meats with a healthy meat like grilled chicken or a nitrate and preservative free brand. Buy and cook your own meat from a market or local farm where animals are raised in healthy and grass fed or pasture raised conditions. Cook your roast or breast and then slice it thin for your own, healthy lunch style meat.
Eat foods for function! Foods that help sharpen your focus include a side of celery, sliced peppers, or carrots. These great veggies provide your body with Luteolin which helps to reduce inflammation and improve memory.
Don't forget your B vitamins! Packing a side of steamed broccoli and cauliflower, eating eggs for breakfast, and packing a healthy meat can all provide a healthy source of Choline which can assist with brain development, boost cognitive function and improve learning and memory! Eggs, beef, and fish will also give your brain a B12 boost and help with memory!
Blueberries are a good option for fun finger fruits. Blueberries are rich in antioxidants and phytochemicals that improve learning, thinking and memory. If you or your child are a "hand-to-mouth snacker" – eating blueberries, one at a time, and thoroughly enjoying them may be a good side for your lunch! Add almonds for additional vitamin B and an enjoyable crunch!
Walnuts and pumpkin seeds provide an easily packed snack that is high in Omega 3's which are good for the brain and memory. Another way to get omega 3's easily into kids diets is chewable tuna oil capsules – I promise it's not as fishy as it sounds.
Get to BED! No one will function well, have clear memory, feel energized, or be in a good mood if he/she is lacking the proper rest. Be sure that everyone in your household gets the appropriate number of sleep hours each night. Infants are recommended to have 16 hours; teenagers are recommended to have 9 hours; and adults are recommended to have 7 to 8 hours.
Finally, remember that vitamin D is important for the brain function and to combat stress. Ask your practitioner if you are consuming adequate vitamin D or if it needs to be supplemented throughout the winter. Vitamin D has also been linked to stronger immune systems which is always helpful with back to school!  Cod Liver Oil is one of my favorite and efficient ways to obtain Vitamin D for the body!
Dr. Stephanie Zgraggen, DC, MS, CCN, CNS is a licensed chiropractic physician, certified clinical nutritionist, and owner of Lime and Lotus, LLC.  Dr. Zgraggen has developed a successful method for determining the root causes of many of her patient's health concerns, and she uses a combination of whole food and herbal protocols to restore health.