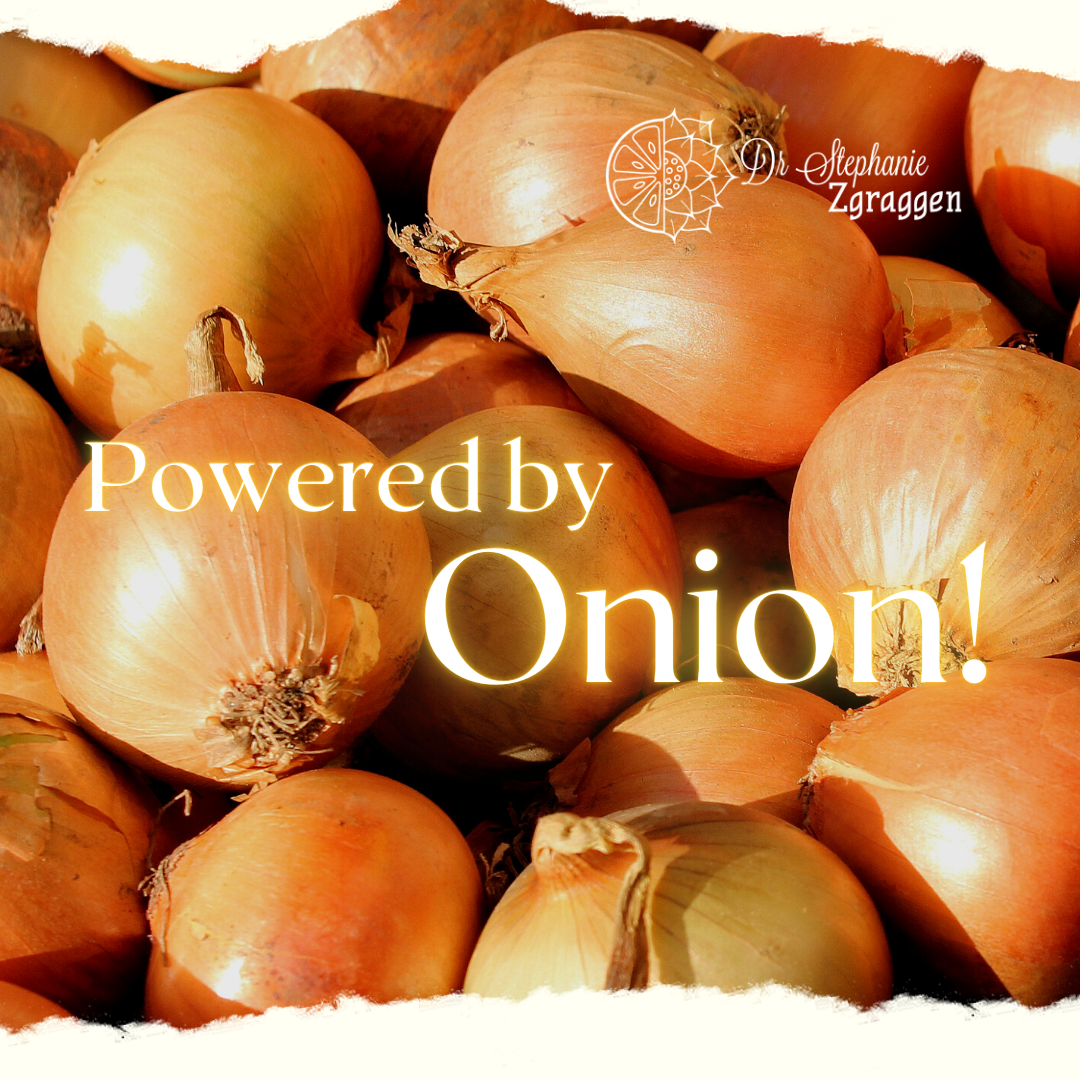 Onion is a main household food staple that can enhance practically any savory dish. In the culinary world, it is considered both a spice and a vegetable, but botanically, it is a fruit. Whatever you may want to call it, one thing for sure is that the onion holds a special place in our hearts and for our overall health.
Let's dive in and uncover the health benefits of onion.
Stabilizes blood sugar levels
Offer a healthy food infused with onions at your family gathering because this spice is known to regulate blood sugar because of its flavonoids.
Happy tummy
The sweetness and umami flavor of onion is truly a treat but the biggest takeaway is its ability to improve your digestion, therefore, strengthening your immune system and minimizing inflammation.
Nutrient overload
Onion is dense with nutrients that can improve your overall health. It is rich in potassium which increases your energy levels and metabolism, manganese promotes the creation of connective tissues, and bones.
Antibacterial properties
Be happy with the tears that onion brings because that strong smell is the compound called allicin which eliminates bacteria and toxins in our bodies.
French Onion Soup
Ingredients
5 tablespoons unsalted butter, divided
1 tablespoon vegetable oil
3 pounds Vidalia onions (about 4 medium), halved lengthwise, peeled, and thinly sliced
1 teaspoon kosher salt
1/2 teaspoon freshly ground black pepper
1/2 teaspoon granulated sugar
1 1/2 cups dry white wine
6 cups homemade beef broth or store-bought beef broth
10 sprigs thyme
2 bay leaves
1 baguette or gluten free baguette
1 garlic clove, cut in half lengthwise
2 teaspoons sherry, preferably Fino or Manzanilla
4 ounces Gruyere cheese, grated (about 1 cup)
Special Equipment
Kitchen twine, six 8-ounce or four 16-ounce oven-safe ramekins or bowls (optional)
Direction
In a large Dutch oven or other large pot, melt 3 tablespoons of butter over medium heat. Add the oil and onions; cook onions until softened, stirring occasionally, about 15 minutes. Add the salt, pepper, and sugar; continue to cook, stirring occasionally, until onions are deep golden brown and caramelized, and reduce heat slightly if onions seem to be browning too quickly, 35 to 45 minutes more.
Add wine and raise the heat to high. Cook until almost all liquid has evaporated, 8 to 10 minutes.
Tie thyme and bay leaves into a bundle with twine. Add broth and herb bundle to the pot with onions. Bring to a boil, reduce to a simmer, and cook, uncovered, until broth is thickened and flavorful, 20 to 30 minutes. Remove from heat and whisk in the remaining 2 tablespoons of butter. Taste and adjust seasoning.
Heat the broiler. Cut two 1/2-inch baguette slices for every serving of soup. Place baguette slices on a rimmed baking sheet and toast in the oven until crisp and dry but not browned, about 1 minute per side. Rub one side of each toast with the garlic clove and set aside.
Place ramekins or oven-safe bowls on a rimmed baking sheet, add 1/2 teaspoon of sherry to the bottom of each, and ladle soup on top. Top each serving of soup with two garlic-rubbed toasts. Divide cheese among the servings, covering the bread and some of the soup. Carefully transfer the baking sheet to the oven and broil until the cheese is melted and bubbling, 4 to 8 minutes. (Alternatively, if using regular soup bowls: Top each garlic-rubbed toast with some cheese and return to broiler to melt, about 2 minutes more. Divide sherry and soup among bowls, sprinkle with remaining cheese, and top each serving with two cheese toasts).
Adapted from epicurious